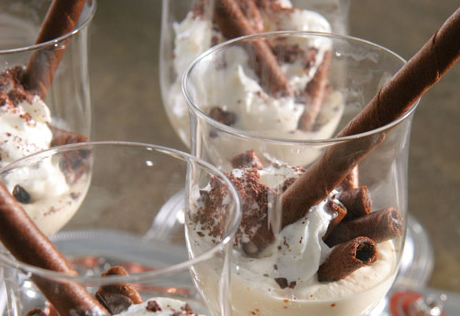 Ingredients & Directions
1 canister (14.1 ounces) Pepperidge Farm® Pirouette® Chocolate Fudge Rolled Wafers
4 egg yolk
1/4 cup sugar
1/4 cup prepared instant espresso
2 tablespoons sweet dry Marsala wine
4 ounces mascarponecheese (about 1/2 cup)
1 cup heavy cream
1 teaspoon vanilla extract
1 tablespoon confectioners' sugar
1/4 cup grated bittersweet dark chocolate
Reserve 8 whole wafers for garnish.  Cut the remaining wafers into 2-inch-long pieces.
Beat the egg yolks and granulated sugar in the top pan of a double boiler over hot water with a whisk for 5 minutes or until the mixture is thickened.
Stir the coffee, wine and cheese in the pan.  Cook and stir with a whisk for 10 minutes.  Remove the pan from the double boiler.  Let the mixture cool for 10 minutes.
Beat the heavy cream, vanilla extract and confectioners' sugar in a medium bowl with an electric mixer on high speed until stiff peaks form.
Divide the espresso cream among 8 glasses.  Top each with about 1/2 cup wafter pieces.  Divide the whipped cream and the chocolate among the glasses.  Garnish each with 1 whole wafer.

Tips
Tip: For a chic serving idea, serve this dessert in wine or martini glasses.