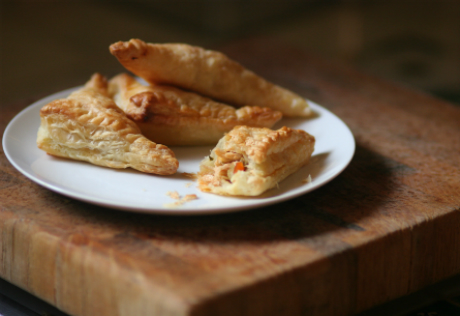 Ingredients & Directions
1 tablespoon butter
2 tablespoons minced onion
1 tablespoon minced fresh parsley
1 clove garlic, minced
1 teaspoon Spanish paprika(hot or mild)
1 tablespoon all-purpose flour
1/2 cup Campbell's® Condensed Chicken Broth
2 tablespoons sliced pimento-stuffed olives
1 cup shredded boneless, skinless chicken breasts, cooked
1 package (17.3 ounces) Pepperidge Farm® Puff Pastry Sheets, thawed
Heat the butter in an 8-inch skillet over medium heat.  Add the onion and cook for 2 minutes, stirring occasionally.  Stir in the parsley, garlic and paprika.  Sprinkle in the flour and stir well.  Whisk in the broth.  Reduce the heat to low.  Cook and stir for 1 minute or until the mixture is thickened.

Stir in the chicken and olives and cook for 3 minutes or until the chicken is hot.  Remove the skillet from the heat.  Let cool for 10 minutes.  Season to taste.
Heat the oven to 400°F.  Grease or line a baking sheet with parchment paper.
Cut each pastry sheet into 9 squares, making 18 in all.  Roll out on a lightly floured surface or pick up and stretch each square to 4x4-inches in size.
Place about 1 tablespoon chicken mixture in the center of each square.  Fold the pastry over the filling to make a triangle and pinch the edges together to seal.  Place the empanadas onto the baking sheet.  Crimp the edges of the empanadas with a fork.

Bake for 20 minutes or until the empanadas are golden brown.