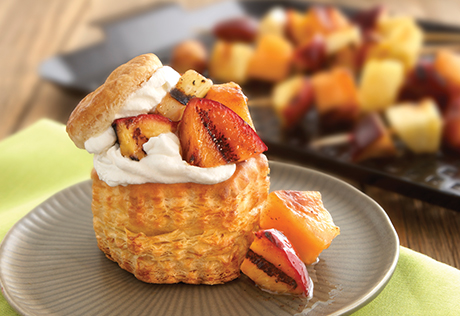 Ingredients & Directions
1/2 cup orange juice
1/4 cup honey
1/4 teaspoon ground nutmeg
1 cup fresh pineapple cut into 1-inch pieces
1 cup fresh cantaloupe cut into 1-inch pieces
1.25 cups fresh peach, nectarines and/or plums cut into 1-inch pieces
1.5 cups thawed frozen whipped topping
1 package (10 ounces) Pepperidge Farm® Puff Pastry Shells, prepared according to package directions
Stir the orange juice, honey and nutmeg in a medium bowl.  Add the fruit and stir to coat.  Cover and let stand for 10 minutes.

Thread the fruit onto 6 wooden skewers.
Lightly oil the grill rack and heat the grill to medium.  Grill the fruit for 5 minutes, turning it over once halfway through the grilling time, brushing often with the orange juice mixture.

Stir 3 tablespoons remaining orange juice mixture and the whipped topping in a medium bowl.

Place the pastry shells onto plates.  Divide the whipped topping mixture among the pastry shells.  Remove the fruit from the skewers and spoon into and over the pastry shells.  Top with the pastry tops.