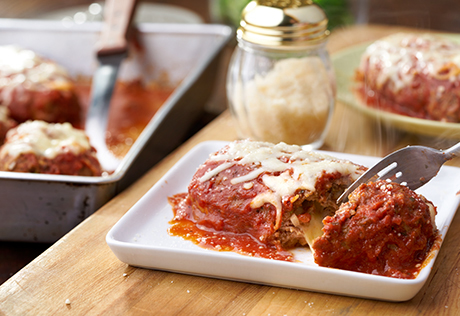 Ingredients & Directions
1 jar (24 ounces) Prego® Traditional Italian Sauce or Prego® Roasted Garlic Parmesan Italian Sauce
1.5  pounds ground beef
1.5 cups Pepperidge Farm® Herb Seasoned Stuffing
2 egg, beaten
1  medium onion, chopped (about 1/2 cup)
1/4 cup  chopped green pepper
1 teaspoon dried oregano leaves, crushed
4 ounces mozzarella cheese, cut into 6 pieces
1/2 cup shredded mozzarella cheese (optional)
Heat the oven to 400°F.  Mix 3/4 cup sauce, beef, stuffing, eggs, onion, pepper and oregano thoroughly and shape firmly into 6 loaves, placing 1 piece cheese in the center of each loaf. Place the loaves into a 13x9x2-inch baking pan.
Bake for 25 minutes or until the meatloaves are cooked through.  If serving immediately, top with the cheese, if desired, and serve with the remaining sauce (warmed). OR, cool the meatloaves completely. Wrap the meatloaves and refrigerate for up to 3 days. Cover and refrigerate the remaining sauce.
Unwrap the meat loaves and place with the remaining sauce in a 12-inch skillet. Cover and heat over medium heat until the meatloaves are hot.  Sprinkle with the shredded mozzarella cheese and serve with grated Parmesan cheese, if desired.