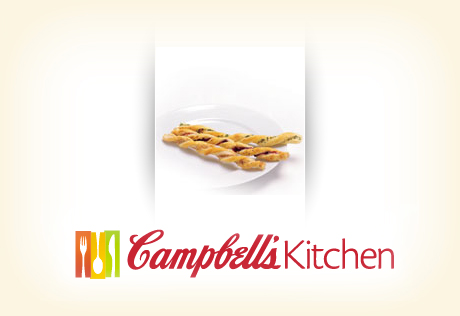 Ingredients & Directions
1 egg
1 tablespoon water
2 tablespoons all-purpose flour
1/2 of a 17.3-ounce package Pepperidge Farm® Puff Pastry Sheets(1 sheet), thawed
1/4 cup grated Parmesan cheese
1 tablespoon chopped fresh parsley
1/2 teaspoon dried oregano leaves, crushed
Heat the oven to 400°F. Beat the egg and water in a small bowl with a fork.  Lightly grease a baking sheet.
Stir the cheese, parsley and oregano in a small bowl.

Sprinkle the work surface with the flour. Unfold the pastry on the work surface. Roll the pastry into a 14 x 10-inch rectangle. Cut the rectangle in half lengthwise. Brush the halves with the egg mixture. Top 1 half with cheese mixture. Place the remaining half over the cheese mixture, egg-side down. Roll gently with a rolling pin to seal.
Cut the pastry crosswise into 28 (1/2-inch) strips. Twist the strips and place them 2 inches apart on the baking sheet, pressing down the ends. Brush the pastries with the egg mixture.
Bake for 10 minutes or until the pastries are golden brown. Let the pastries cool on the baking sheet on a wire rack for 10 minutes.