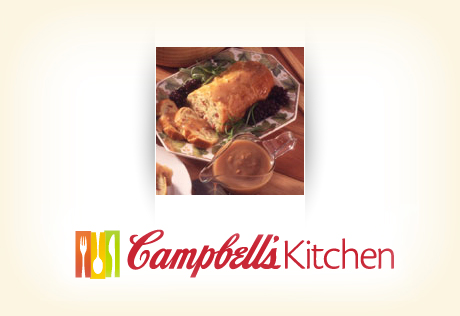 Ingredients & Directions
1 medium green onion, chopped (about 2 tablespoons)
4 slices bacon, cooked and crumbled (optional)
1 egg
1 tablespoon water
1/2 of a 17.3-ounce package Pepperidge Farm® Puff Pastry Sheets(1 sheet), thawed according to package directions
1 can (14.5 ounces) Campbell's® Chicken Gravy
Stir the Quick Seasoned Mashed Potatoes (see Recipe Note below), green onion and bacon, if desired in a large bowl. Cool the potato mixture to room temperature. Heat the oven to 400°F. Beat the egg and water in a small bowl with a fork or whisk.
Unfold the pastry on a lightly floured surface. Roll the pastry into a 16 x 12-inch rectangle. With the short side facing you, spoon the potato mixture on the bottom half of the pastry to within 1 inch of the edges. Starting at the short side, roll the pastry up like a jelly roll. Place the strudel seam-side down on a baking sheet. Tuck the ends under to seal and brush with the egg mixture.
Bake the strudel for 25 minutes or until it's golden brown. Heat the gravy in a 1-quart saucepan over medium heat and serve with the strudel.