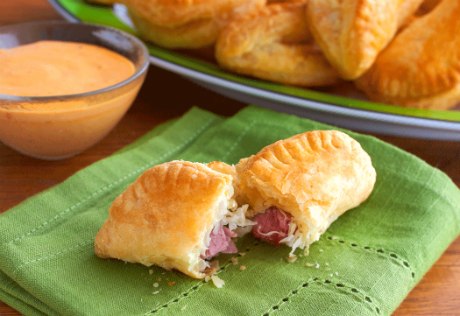 Ingredients & Directions
1 egg
1 tablespoon water
2 tablespoons all-purpose flour
1 package (17.3 ounces) Pepperidge Farm® Puff Pastry Sheets, thawed
5 ounces shaved deli corned beef (about 1 cup plus 2 tablespoons)
6 tablespoons sauerkraut, rinsed, drained and patted dry
6 tablespoons shredded Swiss cheese
1 cup Russian dressing or Thousand Island dressing
Heat the oven to 400°F.  Line 2 baking sheets with parchment paper.  Beat the egg and water in a small bowl with a fork. 

Sprinkle the flour on the work surface.  Unfold 1 pastry sheet on the work surface.  Using a round cutter, cut the pastry sheet into 9 (3-inch) circles.  Repeat with the remaining pastry sheet.

Place about 1 tablespoon corned beef in the center of each pastry circle. Top each with 1 teaspoon each sauerkraut and cheese.  Fold the pastries over the filling and crimp the edges with a fork to seal.  Place the pastries onto the baking sheets.  Brush the pastries with the egg mixture.

Bake for 15 minutes or until the pastries are golden brown.  Let the pastries cool on the baking sheets on wire racks for 10 minutes.  Serve with the dressing for dipping.