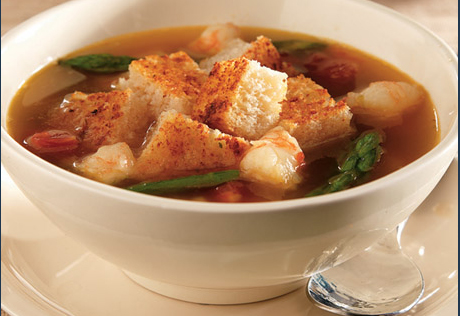 Ingredients & Directions
1 pound thin asparagus spears, cut into 2-inch pieces (about 4 cups)
2 large tomato, peeled, seeded and diced (about 1 1/2 cups)
1 small sweet onion, chopped (about 1/2 cup)
2 cloves garlic, chopped
2 tablespoons olive oil
4 cups Swanson® Chicken Broth or Swanson® Organic Chicken Broth
Swanson® Natural Goodness® Chicken Broth
1 pound cooked shrimp, peeled, deveined and coarsely chopped
4 slices Pepperidge Farm® Texas Toast Parmesan Garlic
Heat the oven to 425°F. Place the asparagus, tomatoes, onion and garlic into a 17 x 11-inch roasting pan. Pour the oil over the vegetables and toss to coat. Bake for 25 minutes or until the vegetables are tender.
Heat the broth in a 4-quart saucepan over high heat to a boil. Add the vegetables and shrimp. Cook until the mixture is hot and bubbling. Season to taste.
Prepare the toast slices according to the package directions. Cut the toasts into bite-size pieces. Divide the soup mixture among 4 serving bowls and top with the toast pieces.