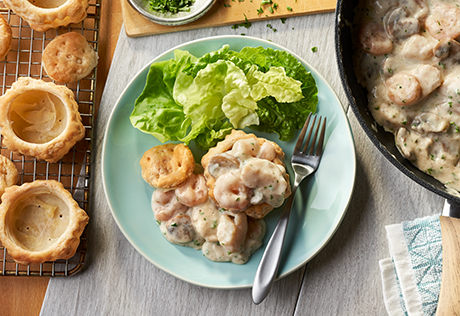 Ingredients & Directions
1 package (10 ounces) Pepperidge Farm® Puff Pastry Shells
1/4 cup butter(1/2 stick)
1/2 pound medium shrimp, shelled and deveined
1/2 pound scallop, cut into halves
1 dash ground black pepper(optional)
6 ounces sliced mushrooms (about 2 cups)
1/4 teaspoon garlic powder or 1 clove garlic, minced
2 tablespoons all-purpose flour
1.5 cups milk
1 cup shredded Swiss cheese (about 4 ounces)
2 tablespoons chopped fresh parsley
Prepare the pastry shells according to the package directions.
Heat half the butter in a 10-inch skillet over medium heat. Add the shrimp and scallops and cook until they're cooked through. Season with pepper, if desired. Remove the seafood mixture from the skillet and set aside.
Add the mushrooms and garlic powder and cook until the mushrooms are tender and the liquid evaporates. Add the remaining butter. Stir in the flour until the mixture is smooth. Gradually stir in the milk, using a fork or whisk Cook and stir for 2 minutes or until the mixture boils and thickens.
Add the cheese and parsley and stir until the cheese melts. Return the seafood mixture to the skillet and heat through. Serve in the pastry shells.