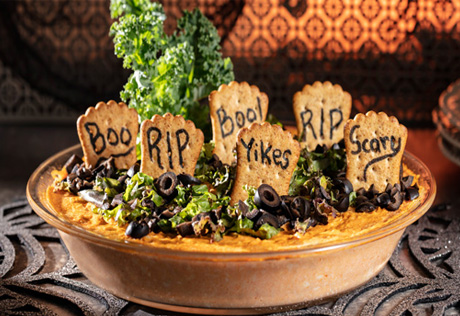 Ingredients & Directions
1 package (8 ounces) cream cheese, softened
1/2 cup blue cheese salad dressing
1/2 cup Franks® Redhot® Original Cayenne Pepper Sauce  or any flavor Franks Redhot® Sauce
1/2 cup crumbled blue cheese or shredded mozzarella cheese
2 cans (12.5 ounces each) Swanson® Premium White Chunk Chicken Breast in Water, drained
1.5 10-ounce packages Pepperidge Farm® Distinctive Cracker Trio (you'll also need an edible-ink marker to write on the 6 crackers used as tombstones)
0.333 cup chopped red and/or green leaf lettuce
1/4 cup pitted drained sliced ripe olives
2 ounces curly kale leaves (about 3 leaves) (you'll want to buy with the stems on so you can use them as spooky trees)
Stir the cream cheese in a 9-inch deep dish pie plate with a fork or whisk until smooth. Stir in the dressing, hot sauce and blue cheese. Stir in the chicken.
Bake at 350°F. for 20 minutes or until the chicken mixture is hot. While the dip is baking, write spooky epitaphs on 6 Harvest Wheat crackers using black edible-ink marker.
Stir the baked dip.  Stand the cracker tombstones in the dip.  Sprinkle the chopped lettuce and olives around the tombstones.  Stand the kale leaves in the dip to make trees.  Serve with the remaining crackers for dipping.