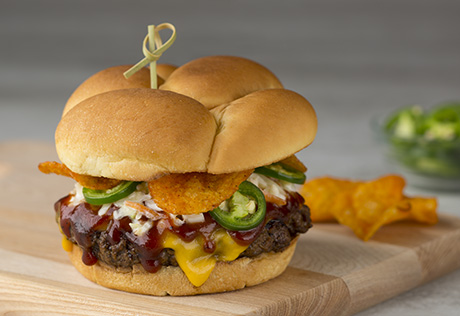 Ingredients & Directions
1.5 pounds ground beef
1/2 cup spicy barbecue sauce
4 slices Cheddar cheese
1 cup coleslaw mix
2 tablespoons mayonnaise
4 Pepperidge Farm® Farmhouse™ Potato Buns, toasted
1 jalapeño pepper, cut into 12 slices
1 ounce (about 1 cup) barbecue-flavored potato chips
Mix the beef and 1/4 cup barbecue sauce in a large bowl.  Season the beef mixture as desired.  Shape the beef into 4 (4- to 5-inch diameter) burgers.
Spray a grill pan or skillet with vegetable cooking spray and heat over medium heat for 1 minute.  Cook the burgers for 6 minutes, then turn the burgers over and cook for 4 minutes more or until cooked through, topping each burger with 1 slice cheese during the last minute of the cooking time.
Stir the coleslaw mix and mayonnaise in a small bowl.
To assemble the burgers, layer each as follows: 1 bottom bun half, 1 burger, 1 tablespoon barbecue sauce, 1/4 cup coleslaw mixture, 3 slices jalapeño pepper, 1/4 cup potato chips and 1 top bun half.  Serve with additional barbecue sauce, if desired.