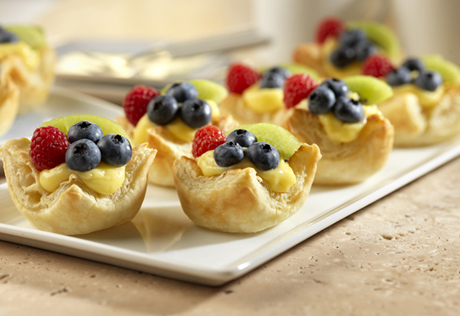 Ingredients & Directions
1 package (17.3 ounces) Pepperidge Farm® Puff Pastry Sheets, thawed
1 egg, beaten
1 package (3 1/2 ounces) instant vanilla pudding and pie filling mix
1.75 cups milk
1/2 cup fresh blueberriesor raspberries or drained canned fruit
2 tablespoons confectioners' sugar
Heat the oven to 375°F.  Lightly grease 24 (2 1/2-inch) muffin-pan cups.
Unfold 1 pastry sheet on a lightly floured surface.  Roll the pastry sheet into a 9x12-inch rectangle.  Cut into 12 (3-inch) squares.  Repeat with the remaining pastry sheet, making 24 in all.  Press the pastry squares into the muffin-pan cups. Brush with the egg.
Bake for 10 minutes or until the pastries are golden brown.  Remove the pastry cups from the pan and let cool completely on wire racks.
Mix the pudding mix and milk in a medium bowl according to the package directions.  Cover and refrigerate for 15 minutes.
Spoon about 1 tablespoon pudding mixture into each pastry cup.  Top with the fruit.  Sprinkle with the confectioners' sugar.