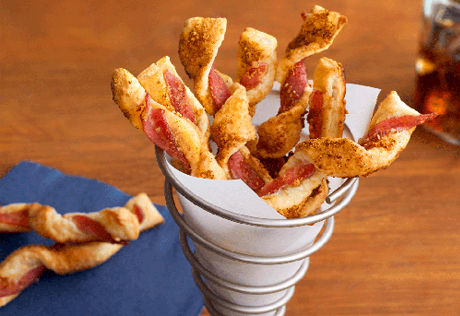 Ingredients & Directions
1/4 cup packed light brown sugar
1/2 of a 17.3-ounce package Pepperidge Farm® Puff Pastry Sheets(1 sheet), thawed
9 slices uncooked bacon
3 tablespoons grated or shredded Parmesan cheese
1/4 teaspoon cayenne pepper
Heat the oven to 400°F.  Line 2 baking sheets with parchment paper.

Sprinkle half the brown sugar on the work surface.  Unfold the pastry sheet on the work surface.  Sprinkle the pastry with the remaining brown sugar.  Roll the pastry sheet into a 14x10-inch rectangle.  Cut the pastry sheet in half lengthwise.  Cut each half crosswise into 18 (3/4-inch wide) strips, making 36.  

Cut the bacon slices in half lengthwise, then crosswise, making 36 (about 5x1/2-inch) strips.

Place 1 bacon strip on each pastry strip.  Twist the pastry and bacon together and place on the baking sheets, pressing down the ends.  Stir the cheese and cayenne pepper in a small bowl.  Sprinkle the pastries with the cheese mixture.
Bake for 15 minutes or until the pastries are golden brown and the bacon is crisp.  Let the pastries cool on the baking sheets on wire racks for 5 minutes.