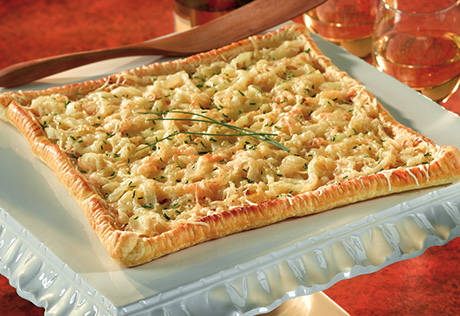 Ingredients & Directions
2 tablespoons vegetable oil
1 large sweet onion, thinly sliced
as-needed all-purpose flour
1/2 of a 17.3-ounce package Pepperidge Farm® Puff Pastry Sheets(1 sheet), thawed
1.5 cups shredded Gruyère cheeseor Swiss cheese (about 6 ounces)
1/4 cup Parmesan cheese
2 tablespoons chopped fresh chives
Heat the oven to 400°F.  Line a baking sheet with parchment paper.
Heat the oil in a 12-inch skillet over medium heat. Add the onion and cook for 15 minutes or until well browned, stirring often.  Remove the skillet from the heat and let cool to room temperature.
Sprinkle the work surface with the flour.  Unfold the pastry sheet on the work surface.  Roll the pastry sheet into a 12-inch square.  Place the pastry onto the baking sheet.  Brush the edges of the pastry with water.  Fold over the edges 1/2 inch on all sides, crimping with a fork to form a rim.  Prick the center of the pastry thoroughly with a fork.
Spread the onion mixture on the pastry to the rim.  Sprinkle with the cheeses and chives.
Bake for 20 minutes or until the pastry is golden brown.  Let the pastry cool on the baking sheet on a wire rack for 5 minutes.  Cut into 24 (3x2-inch) rectangles.  Serve warm.