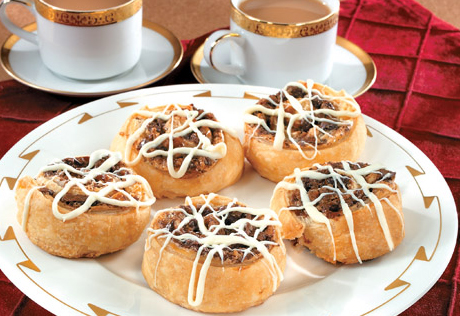 Ingredients & Directions
1 package (8 ounces) cream cheese, softened
3 tablespoons sugar
1/2 teaspoon vanilla extract
1 package (17.3 ounces) Pepperidge Farm® Puff Pastry Sheets(2 sheets), thawed
1 package (8 ounces) semi-sweet chocolate, chopped
4 ounces white chocolate, chopped
2 ounces white chocolate, melted, for decoration
Heat the oven to 375°F. Stir the cream cheese, sugar and vanilla in a medium bowl until the mixture is smooth.
Unfold one pastry sheet on lightly floured surface. Roll the pastry sheet into a 14 x 10-inch rectangle. Spread half of the cream cheese mixture on the pastry sheet to the edges, leaving a 1-inch border on one long side.
Sprinkle half the chopped semi-sweet and white chocolate over the cream cheese. Starting at the long side covered with cream cheese, roll the pastry up like a jelly roll. Press the edges to seal. Repeat with the remaining pastry sheet. Cover and refrigerate the pastry rolls for 1 hour.
Cut each roll into 12 (1-inch) slices, making 24 slices in all. Place the pastries 2 inches apart on greased baking sheets.
Bake the pastries for 20 minutes or until they're golden brown. Remove the pastries from the baking sheets and cool on wire racks for 10 minutes. Decorate the pastries with melted white chocolate.