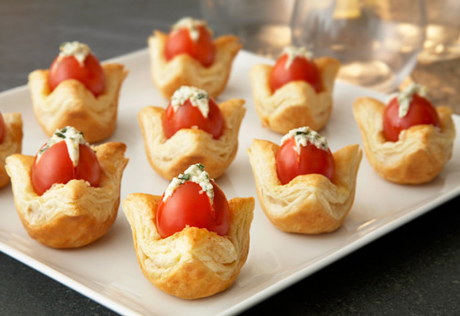 Ingredients & Directions
4 ounces goat cheese, softened
1 tablespoon chopped fresh parsley
1 tablespoon chopped fresh chives
1 tablespoon grated Parmesan cheese
1/2 teaspoon cracked black pepper
1/2 teaspoon grated lemon zest
2 tablespoons all-purpose flour
1/2 of a 17.3-ounce package Pepperidge Farm® Puff Pastry Sheets (1 sheet), thawed
24 cherry tomatoes or grape tomatoes
Heat the oven to 400°F.  Stir the goat cheese, parsley, chives, Parmesan cheese, black pepper and lemon zest in a medium bowl.  Spoon the cheese mixture into a pastry bag or a resealable plastic bag with one corner cut off.
Sprinkle the flour on the work surface.  Unfold the pastry sheet on the work surface.  Roll the pastry sheet into a 10-inch square.  Cut into 4 (2 1/2-inch) strips.  Cut each strip into 6 (3x3x3-inch) triangles.  Discard any remaining pastry.  Press the pastry triangles into the bottoms and up the sides of 24 (1 1/2-inch) mini muffin-pan cups.
Bake for 7 minutes.

Using a sharp knife, cut an "x" across the top of each tomato, cutting through from the top to about halfway down.  Pipe about 1 1/2 teaspoons cheese mixture into each tomato.  Place the tomatoes in the center of the warm pastries and press down lightly.
Bake for 5 minutes or until the pastries are golden brown.